Oakland Unified School District
University of California, Berkeley
(History Institute)
National Women's History Project
Marcus Foster Institute
Ms. Foundation
American Association of University Women (Oakland-Piedmont and Castro Valley-Hayward branches)
League of Women Voters
CA NOW Foundation

Wells Fargo

San Francisco Bar Association
Local PTAs
Student Interns & Community Volunteers
The Winning A Voice video all-star cast of 50 Bay Area children
HerStory For Futures Unlimited is a non-profit organization that seeks to promote women's history in early education. HFFU was founded by Executive Director Milli-Ann Iuso-Cox along with other educators.
We work to make history more inclusive by writing and presenting curriculum that acknowledges women's contributions to America. Our mission is to provide role models to our future leaders via curriculum for children at the earliest possible stage in their education. Thus, we are working to include herstory in history so that today's students can learn our story.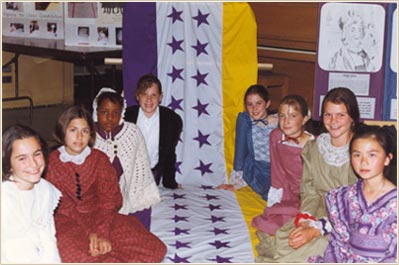 Working in our classrooms, educators in the San Francisco Bay Area discovered that positive role models, so important during students' formative years, are rarely present and often uninspiring in standard curricula. The experiences of women and people of color have been largely overlooked in the construction of America's cultural history. In order to fill this gap and to ensure that all students see themselves represented in the curriculum early on in their school lives, we have designed an interdisciplinary curriculum plan especially for elementary and middle grades. Each unit provides students with noteworthy and heretofore hidden role models to inspire both girls and boys and to foster more inclusive and respectful cultural attitudes.
Through the use of the curriculum, educators have found that when we uncover the hidden histories of women and other under-represented groups, the entire community is measurably enriched and much more respectful of the whole human experience. The value of exploring, demonstrating, and practicing the variety of ways people approach their world is important because society benefits from the understanding and use of all its human resources.
The long road to the development of Winning A Voice began at Joaquin Miller School in Oakland, California in 1972. Milli-Ann Iuso-Cox and her fifth grade class came across a remote reference to Susan B. Anthony while studying the election process. Ms. Iuso-Cox was surprised and disturbed by how little she knew about this women's rights activist. Anthony's achievements and dedication, spanning fifty years, had never been mentioned in the materials used in the classroom. The class decided to research Susan B. Anthony's life and influence. On Anthony's birthday, Ms. Iuso-Cox and her class declared a school holiday, made a presentation to the school and decorated a symbolic birthday cake.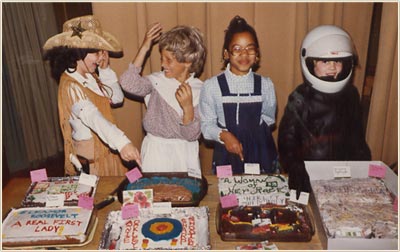 But that was just the beginning of their investigation. As they studied, students soon realized that many other women had played an important part in history too. They too deserved our respect and admiration. To do that we created a HerStory Parade which soon became an exciting annual tradition at Joaquin Miller School. As each successive class endeavored to build on the research done by previous classes, hundreds of new heroines were uncovered and celebrated. HerStory became a community project that had a rippling effect throughout the school district. Despite community efforts, however, many of the pieces to the puzzle were still missing, and access to information about these women was severely limited.

In 1985, the Oakland Unified School District granted Ms. Iuso-Cox a one-year sabbatical to continue her research. During that period, Ms. Iuso-Cox traveled across the country, gathering research materials and ideas for a new women's history curriculum.
In 1989, Ms. Iuso-Cox left the classroom to work full time on research and curriculum development. She became the facilitator of women's studies for the Oakland Unified School District and presented the new curriculum to elementary teachers throughout the district. Student, parent, and teacher responses were overwhelmingly positive. During that time a course of study on women¹s history for the elementary grades evolved. Each grade level was given a specific unit to cover.
By 1995 the first unit was completed. It was called Winning A Voice and was designed for the 5th grade to supplement the traditional unit on the Constitution. With the help of a $10,000 grant from Wells Fargo, the unit was published and distributed for field-testing to 30 elementary school sites in California. The enthusiastic testimonials of the pilot study teachers convinced Ms. Iuso-Cox, the author, that the curriculum was finally in the form that she had been striving for: challenging, inspirational and easy to implement.